*

Hello Guardians!

Let the contest begin!
Purriry has planned to redo her shop window!
Help her in her mission and you may be lucky enough to appear on the Eldarya homepage!
The contest is open for 7 days! During that time, put on your best outfit and show us the result!
Note: 9 guardians will be chosen, meaning, one from each language server.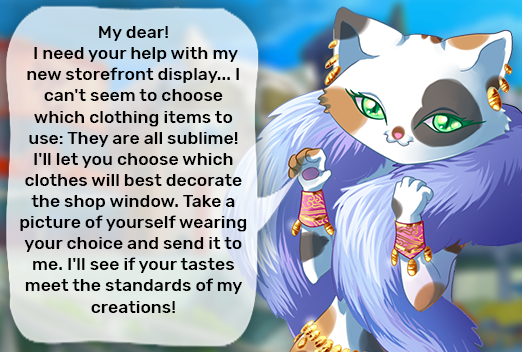 >> Your outfit must be comprised of no more than 9 éléments.
→ Note: The "Simple Lingerie" underwear, the "Eldarya, Long" hair, eyes, mouths, and skins do not count as elements.

>> No animated or "atmosphere" elements will be accepted.

>> One participation per guardian will be accepted.
If several participations are presented by one guardian, they will be disqualified. That goes for multiple accounts as well. ([RULES] Game and Forum Rules)

>> The contest will end August 26 at 5:59 PM EST.



>> A
Valuret
companion will be offered to the winner.
>> Each of the finalists will receive
100 GC
!
To participate, send a PNG image of your guardian to eldaryacontest@beemoov.com from August 20 to 26, with the email subject/title as "Eldarya Contest Participation -  "your username" - "your server (here US)".
Example:  Eldarya Contest Participation - ExampleGuardian - US

So that we know the items your guardian is wearing, please provide a list with the exact names of the elements that you used to create your outfit in the body of your email.
The image of your guardian should be in PNG format.

Example Entry:


Email Subject:  Eldarya Contest Participation - ExampleGuardian - US





Hair: AKKO
Bottoms: MAID OF PHOENIX PANTS
Underwear: MAID OF PHOENIX TEDDY
Coats: BLOODY COUNTESS CAPE
Shoes: ELDARYA BOOTS
Hand Accessories: MYSTERIOUS ENCHANTRESS SCEPTER




To download the image of your guardian, log in to www.eldarya.com and go to the home page. Right-click on the image of your guardian and choose "Save image as…".
Be sure to save the image in PNG format.
Note:: any email message that doesn't follow these instructions will not be counted in the contest.
Once the contest is over, a preselection of 5 guardians (per language server) will be made by the game team. Once the preselection is made, it will be up to you, the players, to vote for the winner of your version on the Eldarya Facebook page.
From August 30 to September 3 at 4 AM EST, "Like" your favorite guardian to give them the chance to appear on the Eldarya home page!
>> GOOD LUCK AND HAVE FUN!

ADDED INFO:
To help understand the participation requirements, here is an additional example of an entry image and list:






Left: 0 elements

Right: 3 elements
- Hair: Tilda
- Dress: Short Dress
- Shoes: Sweet Darling Shoes

*Colors do not need to be listed in the email. If you have already participated and listed the colors of the elements, this is fine. Your entry will not be disqualified if you included the colors in your description.

*As stated above, the following elements do not count as part of the 9 elements:
- the "Simple Lingerie" underwear (any color)
- the "Eldarya, Long" hair (any color)
- All eyes (any color)
- All mouths (any color)
- All skins (any color)
Last edited by Eldarya (08/21/2018 at 08:45)