Minigame
Thank you for listening to us and making adjustement not once but twice! The game was way more pleasant when you adapted the difficulty to your own evolution... Even if I never managed the last level xD

Outfit
So I wrote down every single results from the exploration, starting June 23 to July 3rd.
My companion is a Beckett with 223 luck. I only explored the 10 energy places from the City of El, for a total of 240 explorations (130 energy per day + 3x50 energy potions + 3x100 energy potions).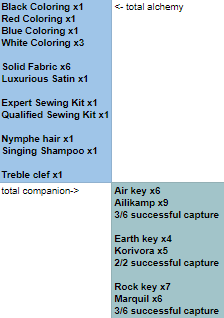 (featuring my findings for the companions)
(full table with the results by location and date is available [here])

I didn't wrote down the first 3 days of the event, but I found 1 Reinforced Fabric and 2 Scrolls in those 3 days.

This is an alchemy based event. And I found only one (1) treble clef??? Which is needed for all the clothes????
I found enough dye to do all the clothes, albeit not really the colors I wanted but still, technically speaking I don't need to buy dyes.
The Beginners Sewing Kit is... non existent. Well, there's the scroll for it that I found a lot and thankfully I had all the ingredients needed, but what if you don't find those ingredients?? Moreover making it costs the same as buying it in the store so finding the scrolls for it isn't interesting at all.
I was lucky to find 1 Qualified and 1 Expert...
Never found the Catatapillar Silk either.

So to complete the outfit (because, gdi, I like to collect illustrations), I had to pay 1205 manaas.
Instead of like, 600 if I found everything on the map.
And I consider myself quite lucky if I believe the other players who found at most 3 ingredients!

Next time there's an alchemy event, I hope the drop rate will be more balanced. As much as the Valentine event was a mess, at least my companion at the time (with 66 luck!) brought me a lot of alchemy material...