Help
The Mini-Games
Gem'Bomb
This is a game of skill.
The goal is to cause the gems stuck in the rock to fall by shooting them with the canon. The released gems are counted when they touch the bottom of the screen.
You have 8 canon balls to release as many gems as you can!
The maximum reward is 20 Experience Points and 10 Maanas.
You can play once every 6 hours.
Bubbl'Temple
This is a game of skill.
The objective of this game is to take the Baby Becola as far as possible by avoiding the obstacles.
To do so, you must keep the left-click button of the mouse pressed to raise the Baby Becola, and release the left-click to make it go down. The game stops when you hit an obstacle.
Your reward is based on the distance you have traveled.
Egg'Pick
This is a game of speed.
At the beginning of the game, an egg design appears at the top left of the screen. Many eggs with then appear on the screen. The goal is to click on those identical to the originally displayed egg.

You have 30 seconds to click on as many eggs as possible before they disappear.
If you click on the wrong egg, you will lose time in your game.
Your reward is based on your final score.
For each of these Mini-Games, the maximum reward is 20 Experience Points and 10 Maanas.
Purro'Swap
In Purro'Swap, you can exchange the objects that your companion finds during their explorations for a bindle that contains special items.
On the page for Purro'Swap, you will find the list of objects you must collect in order to receive a bindle:
When you pass the mouse over the question mark next to the mystery bindle: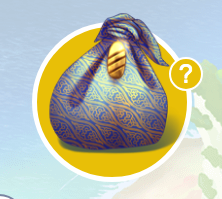 You can see the objects that the bindle might contain, and the likelihood they will be in the bindle, shown in percentages: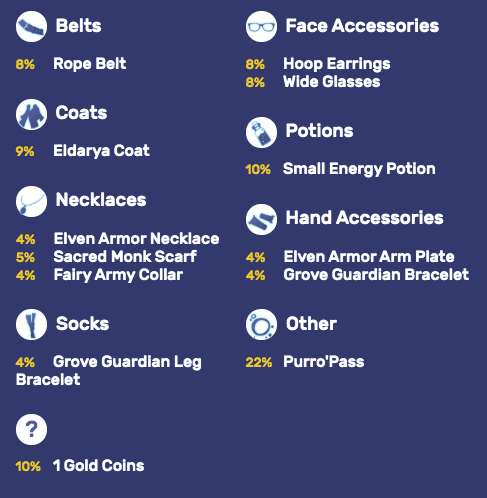 - You can only receive one bindle per day.

- The entire bindle is exchangeable at the market, but not the individuals items inside!
Alchemy
You can see the help section for this game by click on the question mark on this page:
Alchemy Lab!